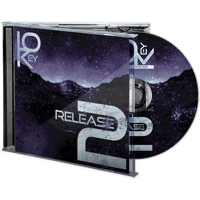 1. MEMORY ACCESS
2. FATAL TRANSMISSION (WE ARE YOUR FUTURE)
3. WE STAY REPPIN' INFECT FT. THA WIKID ONE & BADLUCK
4. HORRORCORE POLICE FT. SAINT SINNA & THA WIKID ONE
5. CLOAKS AND DAGGERS REMIX FT. PSYCHO JESUS & SHY ONE
6. I COME FOR YOUR SOUL FT. MUMM RA, BIG CITY & MALARIA
7. STUNTIN ON HOES FT. GREWSUM
8. MOVIN UP FT. SAINT SINNA, THA WIKID ONE & GREWSUM
9. BODY PARTS FT. INTRINZIK
10. BEUTIFUL SIN FT. DIZZE DAHMER
11. BIND TORTURE & KILL FT. MALARIA
12. MY MIND FT. GREWSUM & EMCEE BONUS
13. LSDEVIL (ORIGIAL)
14. MONSTER FIEND FT. IGNITED
15. SCATTERED THOUGHTS FT. RUDE BOI & GREEN VILIN
16. MANIFEST FT. DRANGD
17. PARANOID ANXIETY FT. ZERO & MALARIA
18. IF LOOKS COULD KILL FT. GREWSUM & MCNASTEE
19. RUN BITCH RUN FT. KIDCRUSHER
20. HITCHERZ FT. J-10 & BARZ
21. PSYCHO-DELIC FT. STITCH MOUTH & KREEPY X
22. JACKIN (ACOUSTIC REMIX) FT. BADLUCK
23. NEVER SOBER FT. KRITIKAL, MIKEY D & MASETTI
24. GENERATION DEATH FT. ZERO & AXS
25. MEMORY DISCONNECT
*CD'S Ship separately! If you make an order with other items + CD's they will arrive in different packages, at different times.